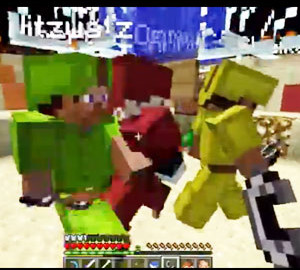 MineOpticon
Saturday, October 19, 2013 – 2PM ET (11AM PT)
MineOpticon is an ensemble performance project and choreographic intervention into the MineCraft world. Situated on the CADRE Laboratory for New Media server "Orwell", The MineOpticon stage is a conceptually inverted Panopticon populated by 8 performers who execute choreographic maneuvers using native resources in absurd and unexpected ways.
In addition to their choreographic roles, MineOpticon performers are subject to all the same game mechanics as any MineCraft player on a server set to survival mode. Performers must remain well fed, during their rehearsals and performances or their avatar will literally die from starvation. Performers also run the risk of being attacked by Creepers, Endermen, Skeletons and other "mobs" while they are in the performance environment.
Maneuvers include choreographed water drops, ensemble sound block performance, the synchronized release of fireworks and many other Minecraft native possibilities incorporated into a 30 minute spectacle with an original musical score by Yagiz Mungin.
The performance also includes the spontaneous emergence of multigenerational participation that may be the subject of academic papers in the future.
Join us for the next event in the Metaverse Cultural Series!
This event will take place in the virtual world of MineCraft, with a live viewing audience in the virtual world of Second Life as well as directly viewable online via the Metaverse Cultural Series Ustream channel.
Grid: Second Life – http://secondlife.com

Region:Â  Vesuvius

SLurl:Â  http://maps.secondlife.com/secondlife/Vesuvius/99/174/25

Ustream viewing: http://www.ustream.tv/channel/metaverseculturalseries

Hashtag: #MCS13
Metaverse Cultural Series: MineOpticon Credits
Produced and Directed by: DC Spensley AKA DanCoyote
Silicon Valley based artist DC Spensley's groundbreaking work in virtual reality art, augmented reality intervention, performance and participatory gaming has been exhibited internationally at venues like Yerba Buena Center for the Arts in San Francisco, Ars Electronica in Linz Austria, The Dutch Electronic Arts Festival in the Netherlands, Boston\'s Cyber Arts Festival and San Jose's ZERO1 Biennial. DC received a Masters of Fine Arts from the CADRE Laboratory for New Media at the School of Art and Art History at San Jose State University and his BFA from the San Francisco Art Institute on full merit scholarship.
Performed by the "Diamond Boots Ensemble":
Jenene Castle
Sara Gevurtz
Ben Unterman
Peter Spangler
Oberon Onmura
Michael Amundsen
Laurence Motibia
Marek Kapolka
Jeremy Owen Turner
Anhinga Chaika
Technical Director: Bill "Wabbs" Cruickshank
Original Score: Yağız Mungan
MineCraft InWorld catering by Ama
MineOpticon is a 30 minute theatrical intervention into the virtual world of MineCraft staged at the CADRE Laboratory for New Media "Orwell" Server. Special thanks to curator James Morgan for his support.
Second Life Venue Courtesy of: The Vesuvius Group
---
About the Metaverse Cultural Series:
The Metaverse Cultural Series is a set of events featuring performances and lectures that highlight  unique aspects of metaverse culture, taking place in multiple virtual world spaces.  The series showcases innovative artists, thinkers, performers, and academics whose work is on the forefront of exploring what it means to work, play, and live in the emerging metaverse.
https://www.avacon.org/blog/wp-content/uploads/2013/11/mcs13_mineopticon_300x3001.jpg
300
300
AvaCon
http://www.avacon.org/blog/wp-content/uploads/2013/11/avacon_logo_340_96px.jpg
AvaCon
2013-10-19 07:50:24
2014-06-19 10:53:58
Metaverse Cultural Series: MineOpticon – 10/19, 11AM