Visit AvaCon's virtual headquarters in the metaverse on the AvaCon Grid!  The AvaCon Grid runs on the OpenSimulator platform and includes conference center space, a sandbox area, and resources, with much more to come soon.

There are two ways to visit AvaCon's offices:
If you are brand new to OpenSimulator, you can create a local account on the AvaCon Grid and log in directly.  See below for instructions.
If you already have an OpenSimulator account that is Hypergrid enabled, you can Hypergrid jump to http://grid.avacon.org:8002.
Local Account Direct Login
1.  Create an Account.
To log in directly with a local account, go to the AvaCon Grid Account Management Portal and click the "Create Account" link on the right side of the page.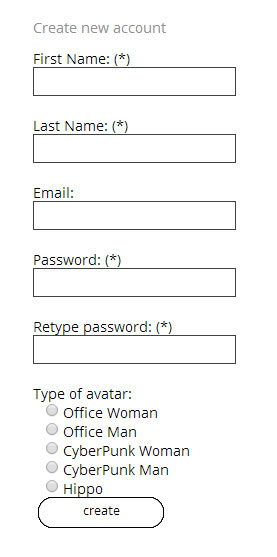 Enter the information requested and choose the default avatar type you prefer.  Regarding your First and Last name, some use an online identity, while others use their real life First and Last name.  It is up to you to choose which you prefer.

Your account will need to be approved by an administrator, and you will receive a notice to the email address you provided when your account has been approved.
2. Download a Viewer
In order to view webpages, you have to have a web browser like Chrome, Firefox, or Safari installed on your computer.  Similarly, in order to visit the AvaCon Grid, you will need a Viewer installed on your computer.

IMPORTANT:  Make sure your USB headset/microphone is plugged into your computer before you launch the Singularity viewer software, otherwise the viewer may not detect the presence of your headset.
3. Configure the Viewer
After you have downloaded and installed Singularity, the next step is to configure the viewer to connect to the AvaCon Grid.  To do this, launch Singularity from your desktop or program menu and follow these steps:

– Click the "Grid Manager" button at the bottom of the screen
– Click the "Create" button to create a new grid entry
– In the Login URI field, enter: http://grid.avacon.org:8002
– Click "OK" button at the bottom of that pop-up window
4.  Log In
As soon as your account has been approved by an administrator, you should be able to log into the AvaCon Grid.

– Enter your First and Last username and password you selected into the bottom of the Singularity viewer screen.  (Note:  In the username field, enter your first and last name with a space between them in the same field, for example:  Joe Smith)
– Select the AvaCon Grid from the pull down menu.
– Click the "Log In" button.

Navigation
When you log in for the first time, you will be in the AvaCon Plaza region, in front of the reception desk.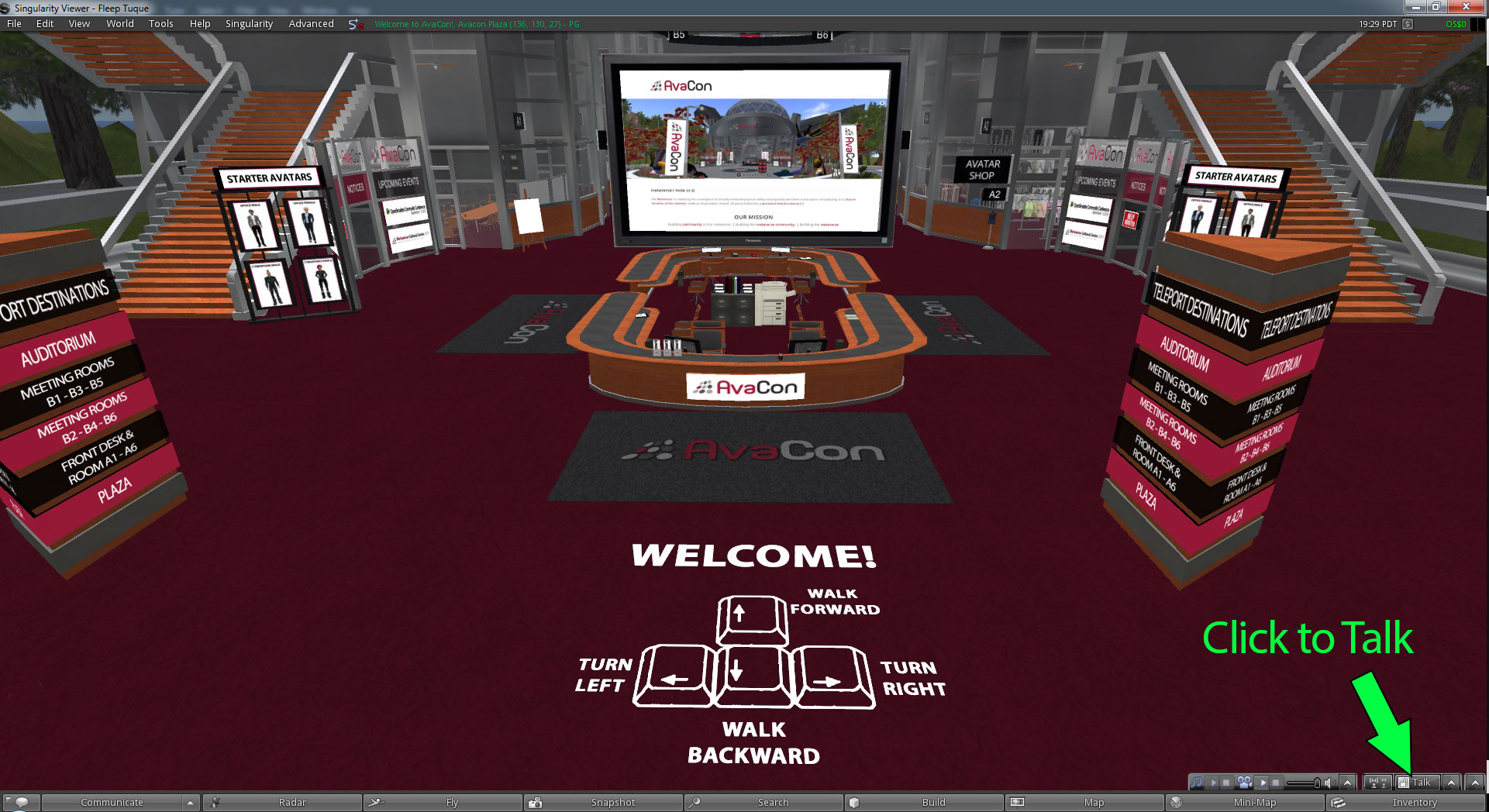 You can navigate your avatar with the arrow keys, or use common video game controls WASDEC. (W walks forward, S walks backwards, etc.)

To speak with your headset/microphone, click the Talk button in the lower right corner of the screen.
Minimum Requirements
In order to log into and use the AvaCon Grid, your computer must meet these minimum requirements:
Internet Connection: High-speed Cable, DSL, or Fiber connection.
Operating System: Windows, Mac, or Linux.
Computer: Not more than 5 years old, preferably 3 or less, with at least 2GHz processor or better.
Computer Memory: At least 4GB RAM.
Graphics Card: Windows – NVIDIA GeForce 6600 or better, OR ATI Radeon 9500 or better, OR Intel 945 chipset. Mac – ATI Radeon 9200 and above, OR NVIDIA GeForce 2, GeForce 4. Linux – NVIDIA GeForce 6600, or better OR ATI Radeon 8500, 9250, or better.
We also recommend a USB headset/microphone, preferably noise cancelling, that you can use to speak in voice. A microphone built into your computer, webcam, or laptop is NOT recommended, as having an "open" microphone can cause painful feedback loops and distortion for other users.