The Metaverse Cultural Series is a set of events featuring performances and lectures that highlight unique aspects of metaverse culture, taking place in multiple virtual world spaces.  The series showcases innovative artists, thinkers, performers, and academics whose work is on the forefront of exploring what it means to work, play, and live in the emerging metaverse.
Theme: Global Impact of the Metaverse – Now & Future
One of the most compelling and alluring aspects of the metaverse is its infinite potential and global reach. While many places in our physical world are convulsed with revolutions, uprisings, border conflicts, and wars, the metaverse is borderless, stateless, and infinite. Â In the physical world, resources are limited, hoarded, and fought over, but in the virtual world, pixels are unlimited and the only finite resources are time and our own creativity and imaginations. Â Still in its nascent form, the metaverse is only just emerging as a site to develop a truly global community, and we wonder how the nexus of physical and virtual may transform our worlds on a broader scale.
As part of the Metaverse Cultural Series, we ask what impact may the metaverse be having on our world now, and how might it impact the global community in the future?
Stay tuned for upcoming future Metaverse Cultural Series events!
July 19, 2014 - The Making of the Rockstar Avatar
The Making of the Rockstar Avatar
Avatar BellaLuna Xigalia will present her Mixed-Reality collaboration with RL "Reality-TV" Producer, Roz Taylor Jordan who will be joining us in-world for the very first time. Videos of their work together in the past two years will shown, which include testing for life-size Holographic Projection for Avatars and BellaLuna's new work titled "Quantum Superpositioning for Performance" using advanced Multisensory and Neurogaming technology.
Roz Taylor Jordan has been a Casting Producer for the biggest Emmy winning shows in Reality Television. There is no genre, age range or subject matter she hasn't tackled working on shows like, Survivor, America's Got Talent, The Amazing Race, Outback Jack, Who Wants To Marry My Dad, The Dr. Phil Show, Average Joe, The Bachelor, Kid's Say The Darndes't Things, and Who Wants To Be A Millionaire.
Patty Rangel (RL) / BellaLuna Xigalia (SL) has been a former guest speaker at the National Second Life Community Conference (2011). It was there that she co-presented her research completed at NASA Ames that same summer for "Brain-Computer Interface for Avatars", in addition to previous R&D completed in 2010 in New York City and San Diego for "Holographic Telepresence for Avatars"(which was a proof of concept where two Second Life Avatars performed as life-size holograms on-stage with a live musician) and "Markerless Motion Capture for Avatars".
Grid: Â Second Life -Â http://secondlife.com
Location: Â Vesuvius
SLurl:Â Â http://maps.secondlife.com/secondlife/Vesuvius/99/174/25
Ustream Viewing:Â Â http://www.ustream.tv/channel/metaverseculturalseries
February 4, 2014 - Senses Places: a Mixed-Reality Performance
Senses Places
Senses Places is a playful mixed-reality performance and participatory environment; an ongoing somatics dance-technology international collaboration witnessing the emergence of complex embodied interactions and environments. The surfacing expression arises out of the intricate enmeshment of embodied and environment trans-modal interfacings amongst performers and participants across the world, their avatars, and video mediations.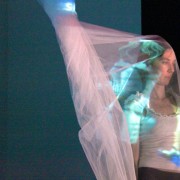 Isabel Valverde aka Butler2 Eveyn is a transdisciplinary performer, choreographer and scholar from Portugal. Isabel has been developing experimental solo and collaborative work since 1986 and she graduated in Dance Theory and History (UCR), Interdisciplinary Arts (SFSU), New Dance (SNDD/AHK) and Dance (FMH/UTL). Isabel's doctoral thesis, "Interfacing Dance and Technology: a theoretical framework for performance in the digital domain", was translated into Portuguese (FCG/FCT, 2010). After completing a postdoctoral (BPD/FCT) she continues research in Dances and Technologies at GAIPS/INESC-ID, and coordinating the Center for Arts and Technologies/Institute for Human Studies and Intelligent Sciences, including performance practice-theory, cross-disciplinary and cultural collaboration, participatory performance environments, somatic based choreography, and experience design.
http://isabelcvalverde.blogspot.com/
Grid: Â Second Life – http://secondlife.com
Location: Â Odyssey Simulator
SLurl:Â  http://maps.secondlife.com/secondlife/Odyssey/27/162/655
Public Physical Location:Â  ARTCASA, Rua Marechal de Saldanha, 28, 1200 Lisbon, Portugal (23:00 hour local time)
Ustream Viewing:Â  http://www.ustream.tv/channel/metaverseculturalseries