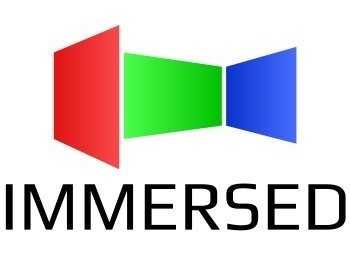 AvaCon Moderates Metaverse Panel at Get Immersed!
On November 23-24, 2014, the Get Immersed! conference was held at 99 Sudbury in Toronto to give content makers, technology innovators, and professionals the tools and resources to build their businesses and careers in an immersive world.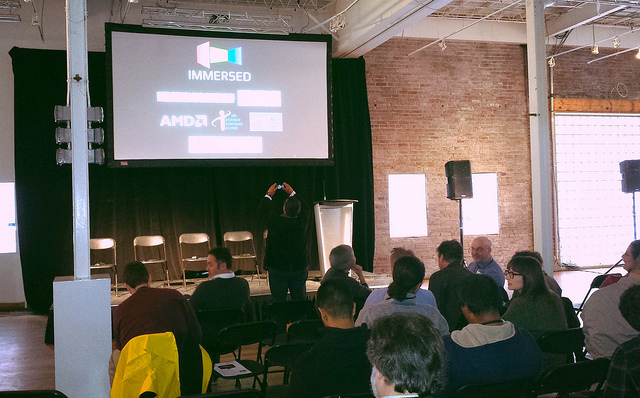 Organized by the Immersive Technology Alliance, a non-profit corporation for immersive technologies like AR, VR, stereoscopic 3D, and sponsored by the Canada Media Fund (CMF) and the Ontario Centres of Excellence (OCE), the two day event included technology makers, API developers, VR filmmakers, investment professionals, and government representatives.

The Metaverse Panel, moderated by AvaCon president Chris Collins, included industry professionals Jesse Joudrey, CEO of Jespionage and core developer of VR Chat, Ben Miller of Wemo Lab, and Mary Spio, president of Next Galaxy and founder of CEEK.
The Metaverse

Supported by Head Mounted Displays (HMDs) and future technologies, the Metaverse is a place where we can live our lives without the limitations of physical reality. While a rudimentary metaverse is a fun digital environment where users can interact with each other, the future version will include unique content experiences that are bought and sold, entertainment, social media and interaction that competes with real life, and new forms of education.
The panel began with a discussion about a common definition for the metaverse, including the requirement to have connected worlds with a common identity, even if a user's appearance changes from world to world, and went on to cover the wide range of opportunities that VR presents for everything from the entertainment industry to education, medicine, and more.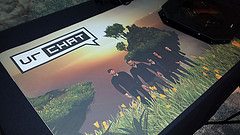 Ben Miller pointed out that the "magic" is in the sense of presence with others, and the need for basic standards to be developed to allow that portability of identity from world to world, while Jesse Joudrey talked about the balance needed to develop both for new and experienced VR users.  He gave the example of a welcoming, familiar coffee shop experience in VR Chat that can help a new user feel comfortable in the environment, while providing options for experienced users to dive into all the possibilities that VR offers.
Mary Spio also talked about the need to have good gateways for people to find the content they want to experience in the metaverse, and discussed Next Galaxay's CEEK platform and their efforts to create a comprehensive gateway for immersive content distribution, including not just entertainment content, but also educational content and a wide variety of VR experiences.
The Metaverse Panel discussion was recorded and we'll post the link when it becomes available online.
In addition to the distinguished list of speakers at the conference, Get Immersed also featured an exhibit hall packed with VR demos and new hardware.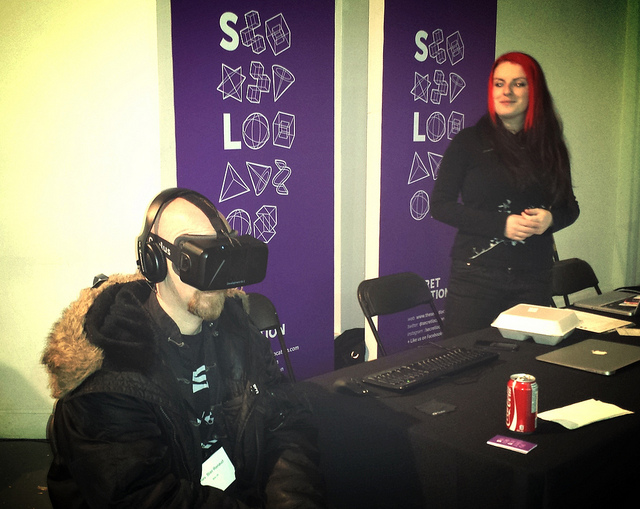 Technolust creator Blair Renaud experiencing the Sleepy Hollow VR demo by Secret Location.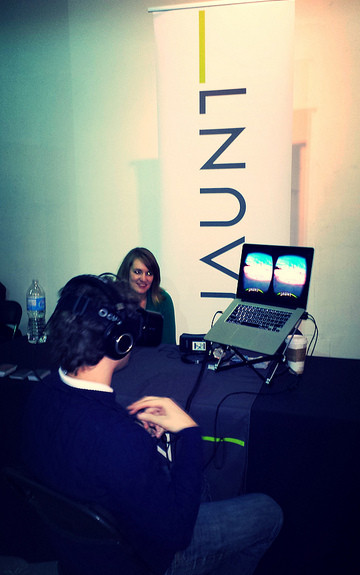 The JauntVR booth.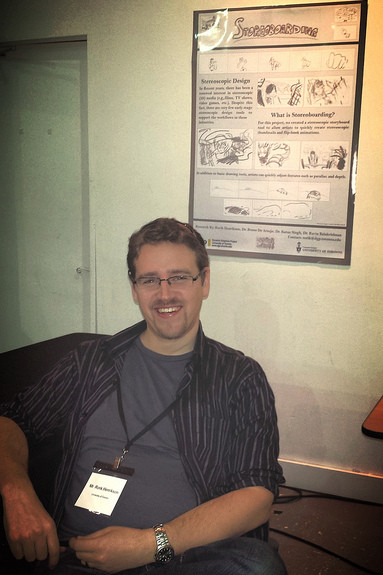 Rorik Henrikson from University of Toronto's HCI program
demoed the awesome Storeoboard stereoscopic storyboarding software for tablets.
See more pictures from the conference on Flickr, and we hear that all of the sessions from the conference were recorded. Â We'll post a follow-up when the videos are available. AvaCon would like to thank the Immersive Technology Alliance, Neil Schnieder and team, and all the folks who made the Get Immersed conference a success!
https://www.avacon.org/blog/wp-content/uploads/2014/11/immersed_logo.jpeg
350
350
AvaCon.org
http://www.avacon.org/blog/wp-content/uploads/2013/11/avacon_logo_340_96px.jpg
AvaCon.org
2014-11-25 13:16:00
2014-11-25 13:25:43
AvaCon Moderates Metaverse Panel at Get Immersed!